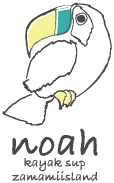 Marine Shop noah in Zamami, Okinawa
We offer tours in and around Zamami, an area which boasts top-class water transparency even for Okinawa. Paddle through the translucent Kerama Blue waters and enjoy tea time on the dazzling white sands of an uninhabited island. If you peek under the water you can see a mysterious world of fish, sea turtles and colourful coral reefs spreading out before you. There's nothing but ocean!
For your special time on Zamami Island, we offer sea kayak, SUP and other activities. Have an unforgettable experience in the sea the world falls in love with! We also offer English services for our foreign guests. Please feel free to contact us today.